Global Tissue News
Women return to the shop floor at Kimberly-Clark Australia
Company is welcoming the return of employees in manufacturing, which 50 years ago, had a strong female presence
The Kimberly-Clark factory in Millicent, Australia, is welcoming the return of women to manufacturing. That's because, 50 years ago, many shifts at the unit were entirely female, but the industry has become increasingly male-dominated since then.
According to Kimberly-Clark, the decision to change its approach to hiring came in 2020, after no women were recruited for production in the previous year.
Thus, the company hired 17 new employees for the factory floor last year, of which nine were women.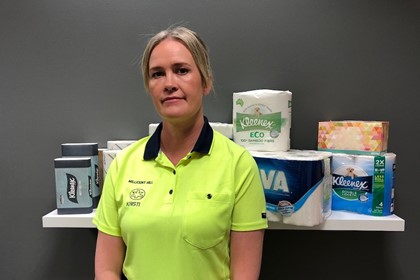 The multi-folder technician Kristi Vilde was one of the new recruits. At 40, she decided it was time to try something new and change careers. "Initially, it was a little bit daunting coming in. I didn't realise that there was as many females coming into this industry, into the mill. I went into a shift where there were more women in the crew — we're a shift of seven and there are four women and three men," she said, adding that this was a good opportunity.
Kelly Thompsell started working at the Kimberly-Clark plant in Millicent 24 years ago, as a chemical engineer. " When I did start, there were a lot fewer women in operations," she said. " But in recent times, it's been fantastic, because there's a lot more women on the floor, and even engineering-wise, there's been a lot more women coming through," he commented, noting that the increased awareness made the difference in the interest of women in join the manufacturing workforce.
Kimberly-Clark Australia produces Kleenex tissues and toilet papers under the Kleenex brand. Learn more at: https://www.kleenex.com.au/.